I have been cooking up a storm the last couple of days since my boyfriend and I returned from visiting his relatives and a friend in the Boston area. I've made Cincinnati turkey chili (with cocoa powder!), roasted cauliflower and broccoli with a lemon caper sauce, chicken with a mushroom cream sauce, roasted carrots, bison steak with caramelized shallots and red wine, and grilled sirloin. I missed baking and having a go-to, low-calorie baked good when I'm craving something sweet.
I seem to be addicted to Fage 2% Greek yogurt lately. I used to eat it regularly last year, switched to 0% for fewer calories, and found it too tangy and unpleasant to be eaten alone. Now I've rediscovered the smooth creaminess of 2%, and I will never go back.
I have been looking for a good cake recipe in which I could use yogurt. I stopped at the Morningside Organic Farmer's Market this morning with Kristov to pick up a little pumpkin to roast, spaghetti squash, and pole beans, and smelled some sweet
lemon balm
. I instantly thought of baking with it. I found Ina Garten's
Lemon Yogurt Cake
recipe after I came home, lightened and simplified it a bit, and added 2 T of finely minced lemon balm.


(Click on the images for larger views.)
So here it is. Dense, sweet, super moist, spongy, and lemony. Try it topped with whipped cream and fresh blueberries!
Ingredients
:
-1.5 cups white whole wheat flour
-2 t baking powder
-1/2 t kosher salt
-1 cup Greek yogurt (2% fat)
-1 cup Splenda granular
-4 servings egg substitute
-2 t lemon zest (about 2 lemons)
-juice of 1 lemon
-1 t lemon extract
-1/2 t vanilla extract
-2 T finely minced lemon balm
-1/2 cup unsweetened applesauce
1) Preheat oven to 350 degrees Fahrenheit.
2) Combine the flour, baking powder, and kosher salt. Set aside.
3) Combine the yogurt, Splenda, egg substitute, zest, juice, extracts, and herbs.
4) Add the flour mixture to the yogurt mixture, whisk gently until combined, and fold in the applsauce.
5) Divide the mixture between a 12-cup muffin pan that has been sprayed with cooking spray or has paper cups. Bake for 30 minutes.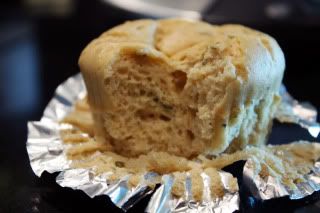 Each cupcake has
91
calories
0.6g
fat
14g
net carbs
2g
fiber
5g
protein