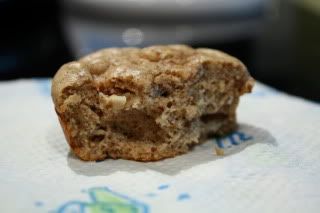 (Click on the images for larger views.)

I swear I can make more than cupcakes!! :p My boyfriend finished the Cocoa-Nutty ones I made the other day, so I made him another batch. I have been looking for a way to incorporate the ginger chips I purchased from Trader Joe's a while ago into some baked goods. Here they are paired with almonds and ground ginger in a moist, seriously satisfying cupcake!
Dry ingredients
:
-3/4 cup almond meal*
-1 & 1/2 scoop (45g) french vanilla
micellar casein
-6 T granulated Splenda
-1/2 t baking powder
-1/2 t ground ginger
-1/2 t cinnamon
-1/4 & 1/8 t salt
-1.5 oz raw almonds
-1 oz dried, lightly sweetened ginger chips (like Trader Joe's)
Wet ingredients:
-3 room-temperature eggs
-6 T
unsweetened vanilla Almond Breeze
-2 T apple butter
-1.5 t pure almond extract
1) Preheat oven to 375 degrees F.
2) Chop the nuts and spread them out on a baking sheet covered with parchment paper. Put them in the oven and take them out when they are golden and fragrant. Meanwhile, pulse the ginger chips through a food processor a couple of times; remove and set aside.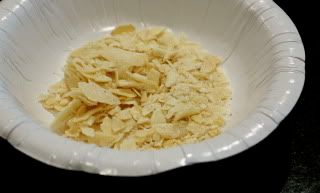 3) Put all the dry ingredients except for the nuts and ginger chips in the food processor and grind to a fine consistency.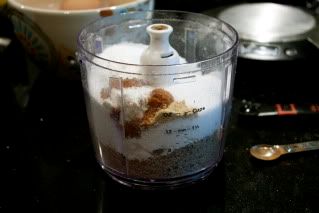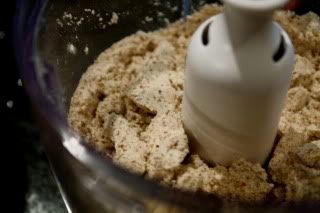 4) Whisk the wet ingredients vigorously in a large bowl until combined and a bit frothy.
5) Whisk the dry ingredients with the wet ingredients until combined. Add the toasted, chopped nuts and ginger chips and mix.
6) Spray a 12 muffin pan with cooking spray or use cupcake liners. Fill each cup until it is 3/4 full.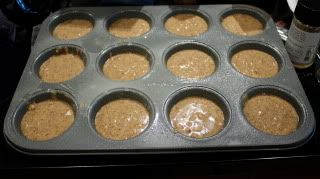 7) Bake for 15 minutes, or until a toothpick inserted in the center of each cupcake comes out dry.
Each cupcake has
115
calories
7g
fat
5g
net carbs
1g
fiber
7g
protein