My boyfriend (Hulk) is turning 24 on Monday. It took me 3 batches, but I finally concocted a delicious low carb, high protein cupcake recipe.
Dry ingredients
:
-3/4 cup almond meal*
-1 & 1/2 scoop (45g) french vanilla
micellar casein
-6 T granulated Splenda
-1/4 & 1/8 t salt
-1/4 & 1/8 t baking powder
-3/4 t cinnamon
-3 pinches nutmeg
-1.5 oz raw hazelnuts
-1.5 oz raw walnuts
Wet ingredients:
-3 room-temperature eggs
-6 T
unsweetened vanilla Almond Breeze
-2 T apple butter
-3/4 t vanilla extract
-3/4 t almond extract
1) Preheat oven to 375 degrees F.
2) Chop the nuts and spread them out on a baking sheet covered with parchment paper. Put them in the oven and take them out when they are golden and fragrant.
3) Put all the dry ingredients except for the nuts in a food processor and grind to a fine consistency.
4) Whisk the wet ingredients vigorously in a large bowl until combined and a bit frothy.
5) Whisk the dry ingredients with the wet ingredients until combined. Add the toasted, chopped nuts and mix.
6) Spray a 12 muffin pan with cooking spray or use cupcake liners. Fill each cup until it is 3/4 full.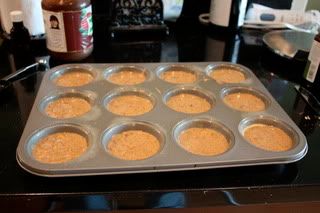 7) Bake for 15 minutes, or until a toothpick inserted in the center of each cupcake comes out dry.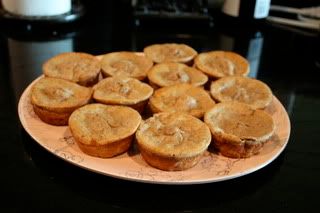 Each cupcake has
169 calories
,
12.5g fat
,
3g net carbs
,
2g fiber
, and
10g protein
*Almond flour is finer than almond meal. If you use almond flour, reduce food processing time.
Frosting recipe to come! Covering casein's texture is a little tricky.