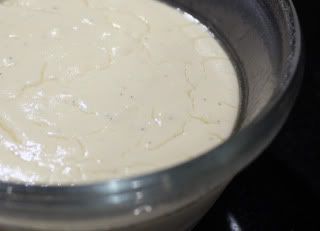 Click on the images for larger views.
I got the idea of making a goat cheesecake after spotting it on the menu at
Abattoir
on Wednesday. I didn't order it, for I thought I could make my own lower-carb and higher-protein version. It has double the calories of my usual fat free cheesecakes; I wasn't able to find any reduced fat fresh goat cheeses. I used some fat free cream cheese, but not enough to cover up the slight tang and the sweetness of goat cheese. If the calorie count is too high for you, use smaller ramekins and reduce baking time, use fat free sour cream, and/or use a reduced fat goat cheese.
Ideas for toppings: reduced balsamic vinegar, fresh blueberries and blackberries, lemon curd, fresh whipped cream
Tips when making this:
-Be
careful
when placing and removing the roasting pan from the oven. It is pretty heavy, and you don't want to splash water in the cheesecakes. You could line the ramekins with tinfoil, but I was too lazy to do this.
-Be careful when removing the ramekins from the roasting dish. I accidentally dropped one because my hands are too small to hold one at a time, and I dipped the thumb of my oven mitt into the cheesecake :(.
Equipment
:
-Food processor
-Plastic spatula
-Food scale
-Zester
-1/4 t measurement
-4 4-6 oz ramekins
-Cooking spray
-1 large roasting pan
Ingredients
:
-6 oz fresh goat cheese
-4 oz fat free cream cheese
-1 serving egg substitute
-1/2 cup Splenda granular
-1/2 cup light sour cream
-zest of 1/2 lemon
-juice of 1/2 lemon
-3/4 t vanilla bean paste or vanilla extract
-Pinch of kosher salt
1) Place a rack in the middle of the oven. Preheat to 325 degrees Fahrenheit.
2) Place cheeses in a food processor. Pulse until smooth and creamy. Scrape down the sides as necessary.
3) Add egg substitute and Splenda to food processor. Pulse until combined. Scrape down the sides as necessary.
4) Add the light sour cream, zest, juice, vanilla, and salt. Pulse until combined. Scrape down the sides as necessary.
5) Coat each ramekin with cooking spray and then fill each with equal amounts of cheesecake batter. Arrange them in the roasting pan so that they don't touch, and then fill the pan with hot water halfway up the sides of the ramekins.
6) Place roasting pan on the middle rack of the oven and bake for 25 minutes. Carefully remove the ramekins from the roasting pan, and let them rest for 30 minutes at room-temperature. Cover with saran wrap and let chill in the refrigerator for at least 4 hours.
Each cheesecake has
190
calories
10g
fat
8.75g
carbs
16.5g
protein