(Click on the images for larger views.)
My dad is a big fan of macadamia nuts, and he's on a low carb diet. These cookies should probably be avoided by calorie counters. They are absolutely
delicious
, and stopping at one might be difficult for some :).
The dough is very easy to make: there are only 4 ingredients, and you just use a food processor. It needs to chill overnight in the fridge. I found the recipe from
Kalyn's Kitchen
and altered it slightly, substituting macadamia nuts for pistachios.
I used a cute, inexpensive mini-muffin tin from
Fante's
for the majority of the baking time, and then I removed the cookies and finished baking them on a jelly roll sheet. The dough is dense and doesn't spread much when baking, so you can use cookie cutters and trust that the cookies won't look like random blobs in the end.
Servings: 27
Ingredients
:
-2 oz macadamia nuts, plus 27 nuts for topping
-1/2 cup & 1 T Splenda granular
-3/4 cup & 4 t almond meal
-1 egg
1) Grind 2 oz of macadamia nuts and 1 T Splenda in a food processor.
2) Add the almond meal and the rest of the splenda, and grind until combined and sticky.
3) Add the egg to the mix and process again until fully combined.
4) Wrap the dough in saran wrap and chill overnight in the fridge.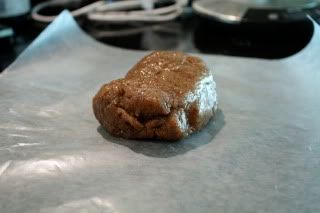 5) Preheat oven to 325 degrees Fahrenheit.
6) Fill a teaspoon with the dough, remove and top with a macadamia nut. Push on the nut slightly so it will stick to the dough. Do this 27 times.
7) Put the cookies on a jelly roll sheet (no need to grease; the dough is already quite oily) or put it into a tin like I did. Or, skip the nut topping, roll out the dough, and use cookie cutters. If using a jelly roll sheet, bake for 15-18 minutes. If using a tin, bake for 15 minutes, blot and then pop out the cookies, and finish baking on a jelly roll sheet for 5 minutes, or until the cookies are golden on the edges.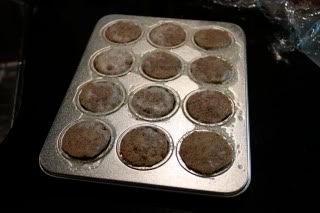 Each cookie has
50
calories
4.5g
fat
1g
net carbs
0.6g
fiber
and
1.3g
protein