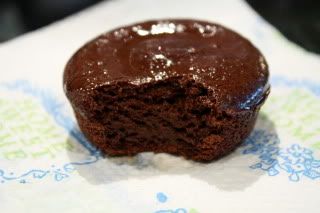 (Click on the images for larger views.)
I haven't had rum cake since I was 9 years old and visiting New Orleans. I found a low fat chocolate rum cake recipe at this
vegetarian site
, but I tweaked it a bit. I try to avoid soy products, so I replaced the tofu for fat free ricotta cheese.
Calabro
brand fat free ricotta is the best I've tried so far; it is available at Whole Foods. I lowered the sugar by using sugar-free maple syrup and rum extract instead of rum. I increased the amount of protein by substituting 2 T of whole wheat pastry flour for chocolate casein.
I ordered vanilla powder and chocolate extract recently from
Fante's
. These were used in my cupcakes, but you may use vanilla extract instead and forgo the chocolate extract. I've found that vanilla extract is sometimes bitter, so I decided to buy vanilla powder. Real vanilla beans are quite expensive :p. The bottle of chocolate extract smells heavenly; I've read that it enhances the flavor of chocolate-y goods.
I opted for rum extract since it's a "free" food, and rum isn't available at Whole Foods, or any grocery store, where I went last night for whole wheat pastry flour. Georgia is very particular about alcohol: no alcohol sales on Sundays, except in restaurants, and beer isn't allowed to be "on sale" at liquor stores.
The inside is very moist and cake-y. They are a
heavenly
treat, and for only 46 calories to boot!
Servings: 12
Dry ingredients
:
-1/2 cup whole wheat pastry flour
-1/2 cup
unsweetened cocoa powder
-1/2 scoop (15g) of chocolate
micellar casein
-2 T Splenda granular
-1/2 t baking powder
-1/4 t baking soda
-1/8 t cinnamon
Wet ingredients
:
-1/2 cup
fat free ricotta cheese
-1/2 cup
sugar-free maple syrup
-6 T espresso
-2 T water
-1 t rum extract or 2 T rum
-1/2 t
chocolate extract
(optional)
-1/4 t
vanilla powder
or 1/2 t vanilla extract
Rum glaze ingredients:
-2 T sugar-free maple syrup
-2 T espresso
-1/2 and 1/4 t rum extract or 1 1/2 T rum
1) Preheat oven to 350 degrees Fahrenheit.
2) Put the wet ingredients in a food processor, and process until smooth.
3) Whisk dry ingredients together in a medium-size mixing bowl.
4) Whisk the wet and dry ingredients together until smooth.
5) Divide mixture among a 12-cup muffin pan sprayed with cooking spray.
6) Bake for 30-35 minutes; a toothpick will
not
come out totally clean.
7) Let the cupcakes cool for 10 minutes.
8) Meanwhile, combine the rum glaze ingredients. Microwave for 10 seconds, and then brush onto the cupcakes. Apply 2 coats.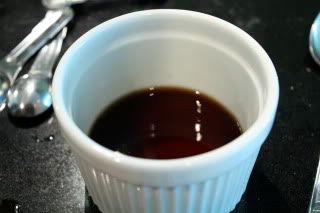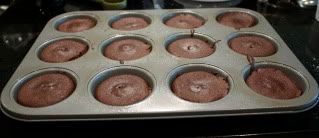 Each cupcake has
46
calories
1g
fat
5g
net carbs
1g
fiber
and
3g
protein