(Click on the images for larger views.)
Craving a cheesecake, but bored of the pumpkin variety, I opted for something fruity this time. This is the first time I've made a cheesecake on my own sans recipe, but I think it turned out pretty good. Some changes I'd make: 1) skip the marmalade and make a real orange syrup 2) use real rum when cooking the glaze, because for some reason the imitation rum extract was strong at first, but the flavor cooked away as the glaze thickened 3) put the cake ingredients in the food processor before pouring it in the pan, because the cheesecake was a little grainy.
Here's what I did to make this cake. Feel free to tweak it since I have some qualms about it. Out of a 4-person vote, 3 (including me) thought the cheesecake was pretty tasty. My dad thought the marmalade was bitter.
Sorry for the bad pictures; the lighting at my parents' house is not great.
Servings: 8
Cake ingredients
:
-2.5 packages of softened fat free cream cheese (8 oz each)
-1 cup Splenda granular
-2.5 servings egg substitute
-1 cup light sour cream
-zest from 1 orange
-1 t vanilla bean paste or vanilla extract or 1/2 t vanilla powder
-1 t imitation rum extract
-1 t orange flavor
Glaze ingredients
:
-juice from 1 orange
-3 T sugar-free orange marmalade
-1 T Splenda granular
-1 t rum extract
-pinch of kosher salt
Topping
:
-dark chocolate (70% cocoa)
1) Preheat oven to 325 degrees Fahrenheit.
2) Cream the cream cheese and Splenda on medium until smooth.
3) Add the egg substitute and beat until smooth.
4) Add the remaining cake ingredients and beat until combined.
5) Bake for 60-70 minutes, until the cake jiggles a little in the middle. Let the cake cool for 10 minutes.
6) Heat the glaze ingredients in a small saucepan over medium heat and stir occasionally. Cook until the glaze can coat the back of a spoon but can still be smeared gently over the cake.
7) Smear over the cake, and let it cool to room temperature.
8) Wrap with tinfoil and let chill in the refrigerator. Before serving, add some chocolate shavings.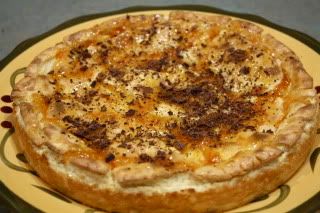 Each slice has
130
calories
2.5g
fat
10.6g
carbs
13.7g
protein